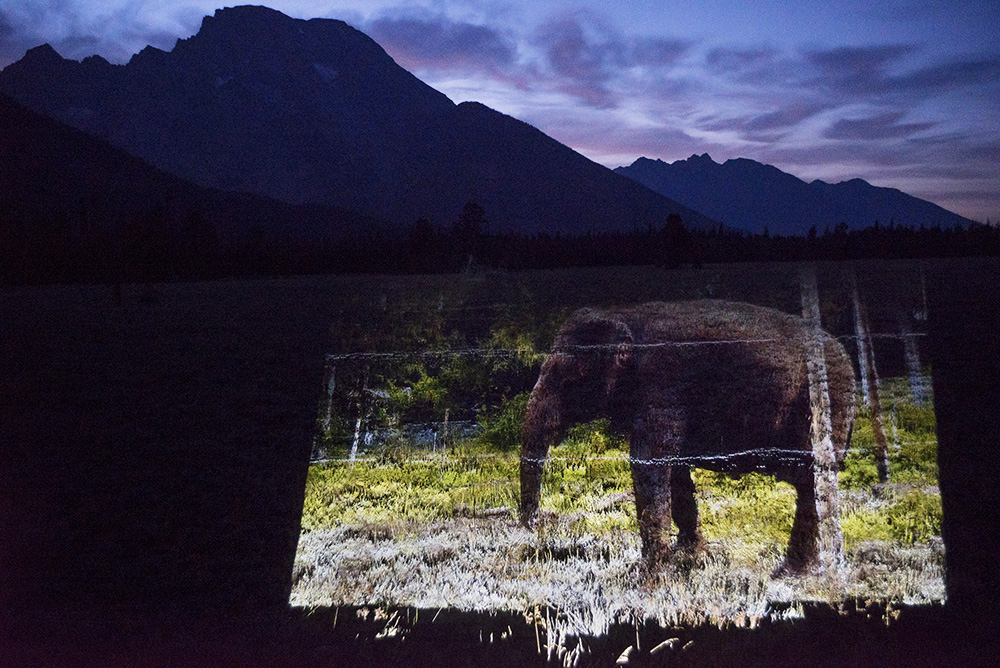 See list to view selected video works. 
Thirty Times a Minute, 2014
Public video projection
video, sound, 10:14 minutes
From over sixty zoos in the US and Europe, this video of captive elephants exhibiting what biologists refer to as stereotypy, a movement disorder only seen in captive animals, was made out of a desire to generate reflection and bring attention to the experience of captivity and to cultivate empathy across species. The video reveals the elephants' distress, power, and grace. The subsequent guerilla public installations of the video, made between 2014-2019, trigger conversations between strangers about isolation and friendship and what is humane.
The durational video of these repetitive movements within environments that nearly replicate one another, are made from stationary viewpoints, and when viewed en masse, become a larger study into unified, rhythmic movement. The video looks at and mirrors collection as obsession, and how the project's multiplicity, in form and content, echoes the (insanity of) repetition, denial, and a capitalistic-obsessed status quo, which upholds entrenched injustice, power imbalance and continued habitat destruction.
The project title references the heart rate of an elephant. Elephant handlers have been known to deceive spectators by saying elephants must sway while standing. No. The truth is that these elephants are exhibiting neurosis due to lack of adequate mental stimulation. Elephants in the wild walk up to 50 miles a day. To me, the rocking represents a "wish-walk"—a way to soothe the distress associated with standing in an enclosure all day, often alone or with only one or two companions. Elephants communicate through infrasonic sound (sounds too low for humans to hear). The audio alludes to these hidden vocalizations.
There are powerful myths surrounding animals, and these nostalgic or sacred connections seem to be driving humans to devour them to their very disappearance. Through the observation of stereotypic behaviors in elephants, I am impelled to ask: in what ways do humans, along with all living beings, seek soothing and connectivity? Can ritualistic behaviors be viewed as a means of escape from present reality, and do forms of escape potentially—or inevitably—become debilitating distortions?
Holding Rhythm, 2022
projection installed at 21c Chicago
video, sound, 12:22 minutes
Surveilling Snow Lily, 2016-2021
video, sound, 54:26 minutes
THÉODORA IN PARIS AND PA RADIO
Théodora in Paris and PA Radio, 2020
video, sound, 7:52 minutes
Butcher, Sheep, Turkey, 2022
video, sound, 3:35 minutes
Warp and Weft, 2021
video, sound, 14:09 minutes
included in Ecoartspace, Embodied Forest (page 34)
Lake Kaubachien, 2013
video, sound, 2:19 minutes
IT IS ONLY NECESSARY TO MAKE THE THING DIFFICULT TO ATTAIN
It Is Only Necessary to Make the Thing Difficult to Attain, 2015
video, sound, 3:59 minutes
Mshindi, 2010
video, sound, 4:13 minutes
ALL MOVEMENT IS BOUND TO BE TOWARDS A PERFECT STATE
All Movement is Bound to be Towards a Perfect State (Circling), 2014
video, sound, 7:33 minutes
Phototaxis, 2021
video, sound, 7:17 minutes
LOVSÅNG, FOR GUTZON BORGLUM
Lovsång, for Gutzon Borglum, 2015
video, sound, 4:55 minutes